Lough Ree Distillery – Ireland's Latest Irish Whiskey Distillery

Lough Ree Distillery
Lough Ree Distillery will be one of the easiest places in Ireland to give directions to when assisting a tourist or visitor to Ireland. See the big lake in the very centre of Ireland? That's Lough Ree or Loch Rí in Irish, meaning The Lake of Kings.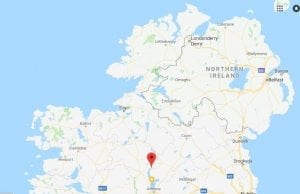 Lanesborough town is the second easiest place in Ireland to give directions to. See the town at the Northern mouth of Lough Ree? That's Lanesborough!
Lanesborough is one of a few natural fords or crossing points on the might Shannon. Although there has been a bridge at Lanesborough for over 1,000 years, the very first crossing method was by stepping stones. The Irish name for Lanesborough, Áth Liag means Ford (Áth) of the Stones (Liag). To this day, the neighbouring village just across the bridge from Lanesborough is still known as Beal Átha Liag (the Mouth of the Ford of Stones) or in english form, Ballyleague.
Lough Ree is one of two large lakes along the River Shannon, which at 252 Kms length from source in Lough Allen to estuary at Limerick City is the largest river in the British Isles. It's a river that I know quite well as in 1992, I skippered the first boat ever to travel from top to bottom of the river in a day on the "Shannon Sprint Powerboat Record" attempt. We completed the challenge in 4 hours and 58 minutes. But that's another story for another day!
One hundred and eighty years ago, at the height of whiskey distillery development in Ireland and before the popularity and expansion of Irish railway lines, the River Shannon served as a key shipping route running North-South along the central spine of Ireland from Limerick Sea Port to Northern Ireland. Two man made canals (the Royal and Grand canals) connected Dublin to the River Shannon at Tarmonbarry 10 Km North of Lough Ree and at Shannon Harbour, 25 Kms South of Lough Ree.
From the 1820's to the 1900's, these inland waterways steamship routes played a major role in distributing Irish Whiskey from distilleries in Dublin, Tullamore and Monasterevin down along the River Shannon for export through Limerick Port to America and Britain.
The Dublin based National Newspaper "Saunders Newsletter" announced the introduction of boats from the Shannon using the new canal to Dublin in their edition of 2nd February 1818. Steamships followed shortly after.
"The numerous individuals interested in the prosperity of the Royal Canal, as well as the Public at large, must be highly gratified to learn, that the trade on the extended line of that navigation has commenced with all the spirit and activity that could have been anticipated by the most sanguine. The first boat from the Shannon (the Lanesborough Trader, Patrick Connor, owner) arrived at the Broadstone harbour on Saturday [31 January 1818], amid the cheers of numerous spectators, with a fiddler playing merrily upon her deck."
When you look at the archives for details of cargo carried up and sown the Shannon River in 1847, it is interesting to note that 742,000 litres of wines and spirits traveled down the Shannon to Limerick Port for export, whereas just 24,000 litres were embarked in Limerick for transportation and distribution up the Shannon to Irish consumers. As even then Ireland was not known for its wine production, we can safely assume that the 742,000 litres for export were all spirits and most likely, whiskey. These were shipped down the river to Limerick from distilleries including Knockcrochery and Athlone on Lough Ree and Killaloe on Lough Derg, the Shannon River's Southern Lake.
It's well over one hundred years since Irish Whiskey was last distilled on Lough Ree, but all that is about to change with the launch of the new Lough Ree Distillery which will open in Lanesborough in early 2019.
The owners of Lough Ree Distillery are the Lanesborough born Clancy Family – brothers and sister team.  Sheila Clancy has a professional background in finance and hospitality management. Peter and Michael have professional backgrounds in engineering. All three have strong backgrounds in Project Management, Sales and Marketing and Management Consulting. As Irish agent for Barison Distillery Systems from Italy, Peter Clancy has also been involved in the design and commissioning of some of Ireland's latest small and medium Distillery projects.
Lough Ree Distillery have also retained the expertise of one of Ireland's leading whiskey retailers, Ally Alpine of The Celtic Whiskey Shop in Dublin who serves as a non executive Director on the Board.
At a press launch in Dublin last week, the Clancy Family shared details of their plan to build a €5M Irish Whiskey Distillery and Visitor Centre in their native Lanesborough, right beside the River Shannon.
The new distillery will be located in an old Georgian building just 50 m from the River Shannon. The house was built in 1806, so it would also have witnessed the comings and goings of the "Lanesborough Trader". Who knows? Lough Ree Distillery might even dedicate a room or window in their new distillery to that pioneering Shannon ship.
Phase one of the project will see the launch of the Lough Ree whiskey visitor Centre in Q4 – 2018 to Q1 – 2019. Phase two in 2019 will see the distillery fully commissioned and producing Single Malt and Single Pot Still Irish Whiskeys, Gin, Vodka, Poitin and a range of Fruit Spirits and Liquors.
Peter Clancy also announced details of a very innovative Lough Distillery "Ambassador" programme which allows early investors to invest in the distillery in return for one to five casks of Irish Whiskey. The innovative element is that the investor can bottle 2 or more cases (12 bottles) a year from their cask once it has reached legal maturity at three years of age. There are three investment levels ranging from €6,000, through €8,000 to €48,000.
The lower two plans allow one cask per investor and 5 to seven years of maturation, while the top plan allows five casks per investor and ten years maturation.
In addition, the top "Rí" Ambassador plan allows the investor to work one to one with the Lough Ree Master Distiller to create their own mash bill and cuts as well as selecting their own personal cask finish subject to cask availability.
Effectively you can create and develop up to 5 casks (1,000 litres) of your own personal whiskey expression from Grain to Glass over ten years. When you divide the up-front investment by ten years of whiskey fun, it looks much more attractive for those who can afford it.
This is an impressive and well designed project led by a highly committed and experienced leadership team. It is also a most welcome addition to tourism in the Irish Heartlands, Irish Lakelands and Inland Waterways of Ireland.
It will be wonderful once more to see Irish Whiskey products leave a distillery on Lough Ree for export around the world.
A notable feature of the recent Irish Whiskey renaissance is that many new distilleries including Lough Ree Distillery are incorporating strong whiskey tourism elements in their design. While distilleries make money for the whiskey brand owners, whiskey tourism makes many multiples of that amount for the local community hosting the distillery.
Some of the new distilleries planned along the Wild Atlantic Way such as Portmagee Distillery in Kerry and Sliabh League Distillery in Donegal have significant potential as sticky, all year around tourism attractions.
Tourists drive along the Wild Atlantic Way, but they stop, stay and spend in the vicinity of whiskey distilleries adding hundreds of thousands and even millions each year to local tourism economies.
I look forward to following Lough Ree Distillery's progress and welcoming them as members of the Irish Whiskey Trail in due course!
For further details, see the Lough Ree Distillery website.